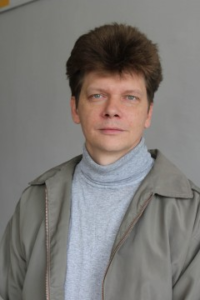 Associate Professor of Design and Operation of Electronic Device Department, Candidate of Physical and Mathematical Sciences, Assistant Professor
Education and Career
1995 – Graduated from the Kharkov Institute of Radio Electronics with a degree in Design and Technology of Radioelectronic Devices.
1999 – Assistant, Department of DOED.
2006 – Ph.D., specialty 01.04.03 – "Radiophysics".
2016 – Associate Professor, Department of DOED.
Educational activity
Teaches courses: "Basics of designing radioelectronic devices", "Basics of designing biomedical devices", "Computer technologies of design", "Fundamentals of scientific research and copyright".
Researcher activity
1999-2005 – Junior Researcher of CSTC.
2006-2017 – Researcher of the CSTC of NURE.
Publications and patents
Has over 30 scientific and more than 15 methodical publications. Inventor certificate of Ukraine № 82512. Method of vibration damping.